10 Best Saints Row: Boss Factory Tattoos
---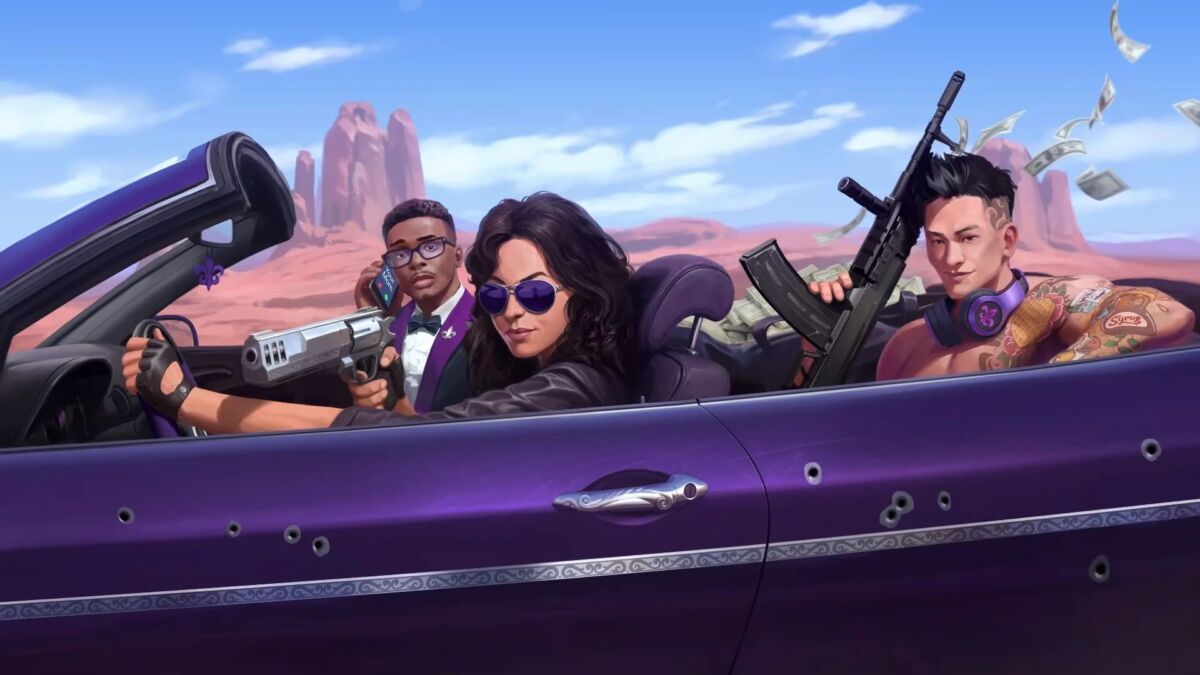 One of the greatest strengths of the Saints Row series has been the vast creation suite, which promises players can create an unlimited amount of characters and possibilities. One thing that can put the brakes on creations though is tattoos, so it's fortunate that Saints Row has plenty of silly and hilarious tattoos as part of its creation tools that players can stick all over their character.
As Volition and Deep Silver apparently have a lot of faith in the creation tools available in Saints Row, they have released the Boss Factory demo, which lets you create your own main character in preparation for the main game launching later this year on PC. PS4, PS5, Xbox One, and Xbox Series X & S. We've decided to focus on the in-game tattoo options and highlight some of our favorites, listed in no particular order.
1. Kokainum
A simple calf tattoo, chances are this one will never see the light of day on regular outfits, but you should probably make the effort to feature this brilliant homage to 80s buddy movie Red Heat, which has saw Arnold Schwarzeneggar and JIm Belushi team up to take down a drug lord. The tattoo itself references one of Arnie's best lines, having revealed a stash of cocaine in a fake leg.
2. Adventurer's Complaint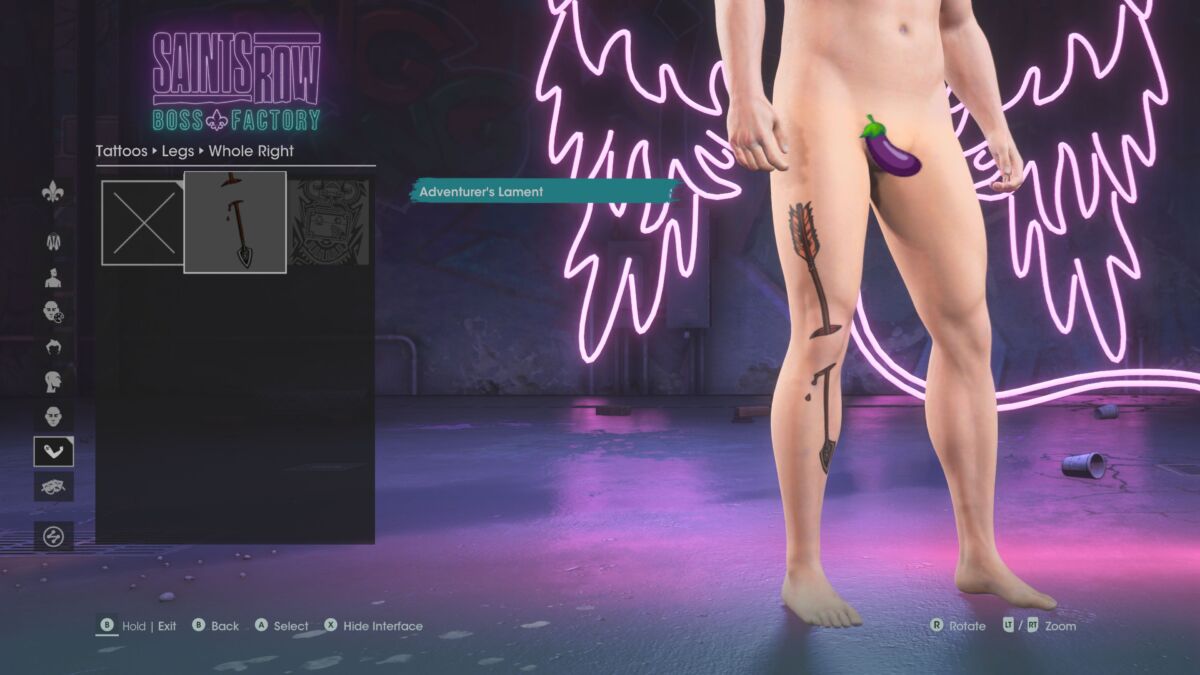 Spare a thought for the old city guards of Skyrim. They were adventurers like you, you know, but a well-placed arrow to the knee ruined their career. Now you can commemorate / commemorate their lost days of adventure with this rather attractive tattoo. No, it doesn't come with the eggplant emoji, but it might improve your archery skills.
3. Bat Genki
The character of Professor Genki has been a constant mascot of the Saints Row series since SR: The Third, so it's not really surprising to see Genki immortalized in tattoo form in the reboot. There are many tattoos to choose from, although our favorite is the Bat Genki tramp stamp. Look at that adorable little face. Who knew Genki could be capable of such violence and murder?
4. High Kick
The Saints Row reboot makes much more use of South American history and culture when it comes to its sandbox and city, Santo Ileso. It makes sense that this is reflected in the tattoos the city has to offer, although High Kick might be one of the best. If nothing else, it would be hilarious to see archaeologists find a drawing like this on an ancient wall.
5. Crotch Gunner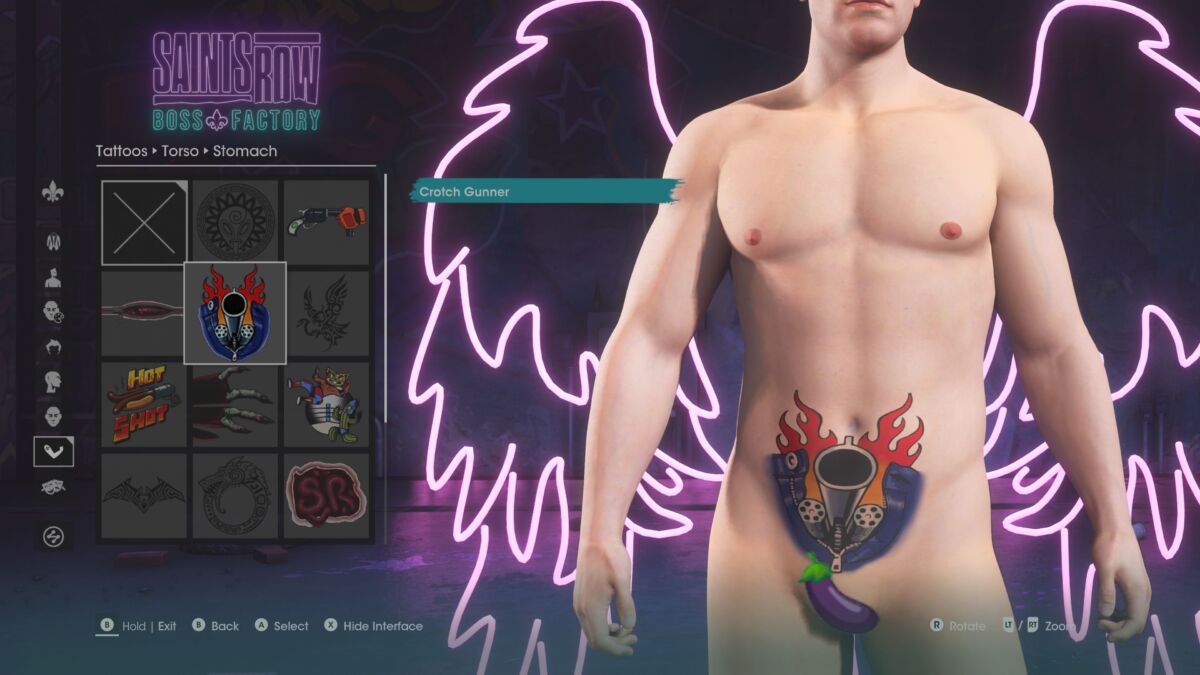 The tattoo of the person whose favorite From Dusk Till Dawn character was Sex Machine, the Crotch Gunner feels like it might give the wrong impression of what's down below. Depending on the tattoo your "shots" are on fire, you might want to have that checked. It's a fun tattoo, if nothing else.
6. First Strike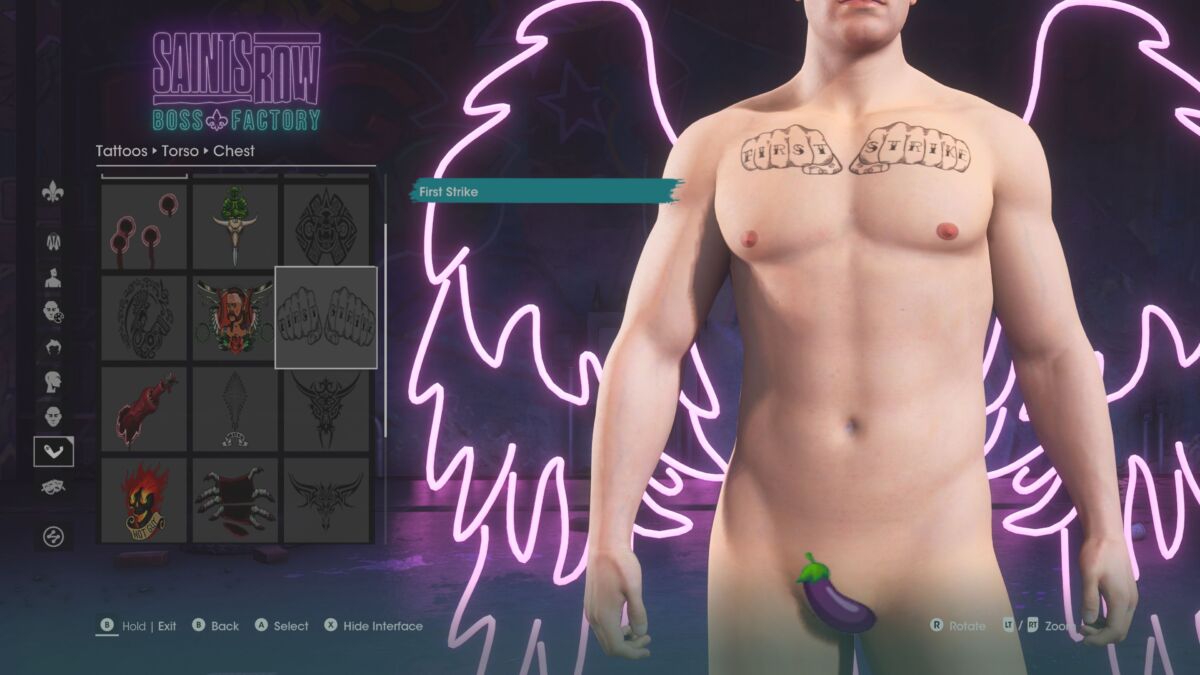 Truly the reason this article is made, the First Strike tattoo got a good laugh at first glance. From the same tattoo school as No Ragrets, the First Strike tattoo depicts the knuckles of someone who has three more fingers than they should have. Whoever came up with this one needs a raise of some kind because they knocked it out of the park here.
7. Alien Ray Gun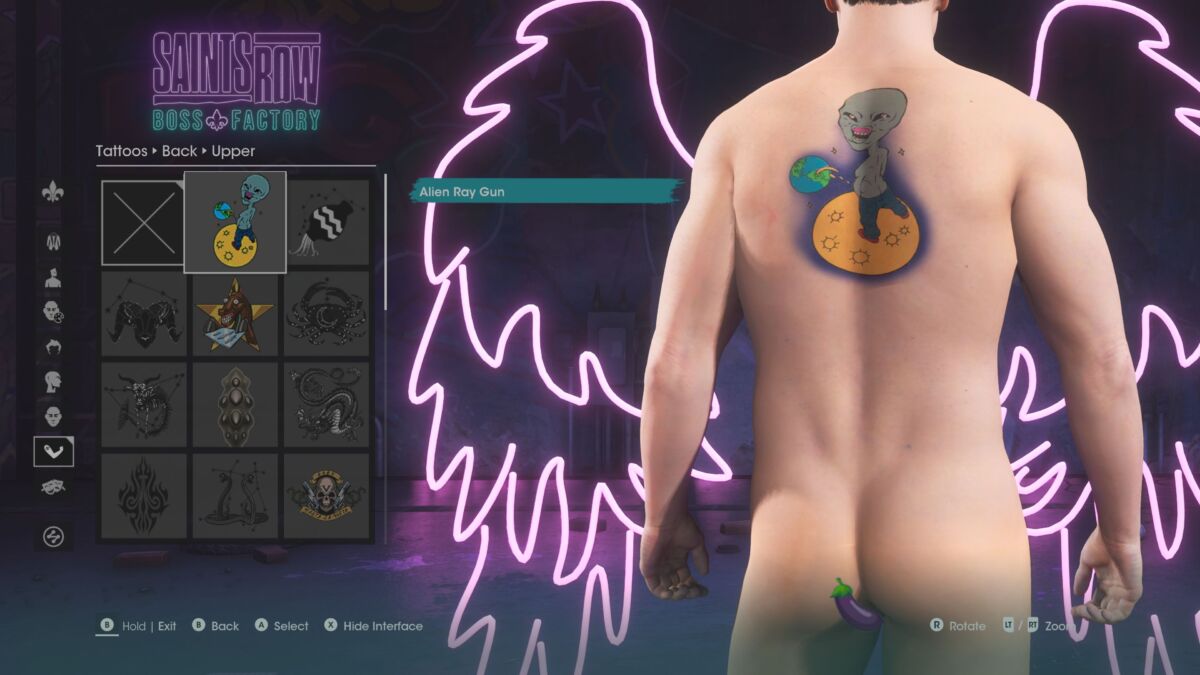 He's an alien pissing on Earth. I am 28 years old. There's no hope for me if I find this funny.
8. Heal
Saints Row offers two forearm tattoo options for those who really want to get a donkey tattoo on their character. While the Approved Tattoo is funny because "haha, mushroom cloud fart," the Get Well Tattoo gets the nod here. Maybe it's something about the Mickey Mouse-like hand giving a thumbs-up where the sun doesn't shine. Very mature tattoos, these. Definitely the ones to show your parents.
9. Protein
Listen, sometimes people just don't appreciate your gains as you make them, so sometimes you just have to get a bicep tattoo on your bicep to really let people know you're a gigachad who lifts weights regularly. It's definitely not the best tattoo in the game, but there's a certain humor to branding yourself as a gym rat beyond, you know, big muscles.
10. Marshal Robo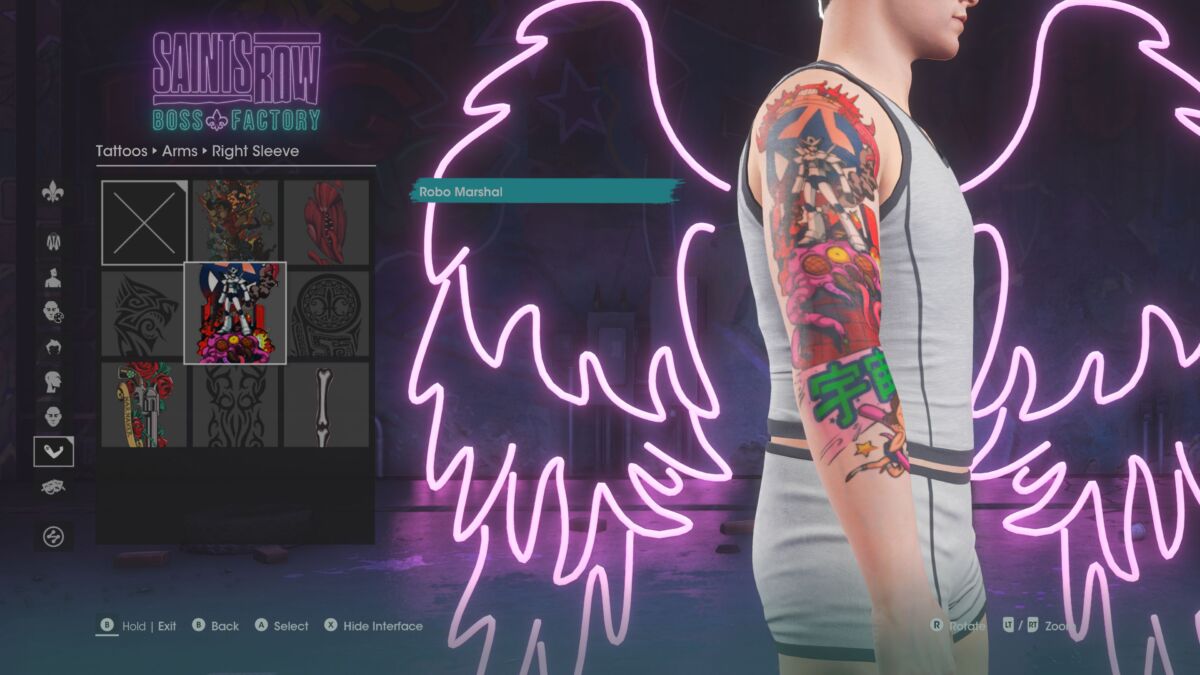 All pretensions aside, this cover actually looks pretty sick. The Japanese anime and manga inspired tattoo absolutely pops with color and vibrancy, containing so many different elements that you can spot something new every time you look at it. In fact, I want this cover in real life now, if for no other reason it would look better than the shitty tribal tattoo I have at the moment.
I was 18 once, you know.
READ MORE: Exploring Yakuza Series Tattoos
Some of the coverage you find on Cultured Vultures contains affiliate links, which provide us with small commissions based on purchases made while visiting our site. We cover gaming news, movie reviews, wrestling and more.