Machining capabilities at Free State plant probably largest in SA
---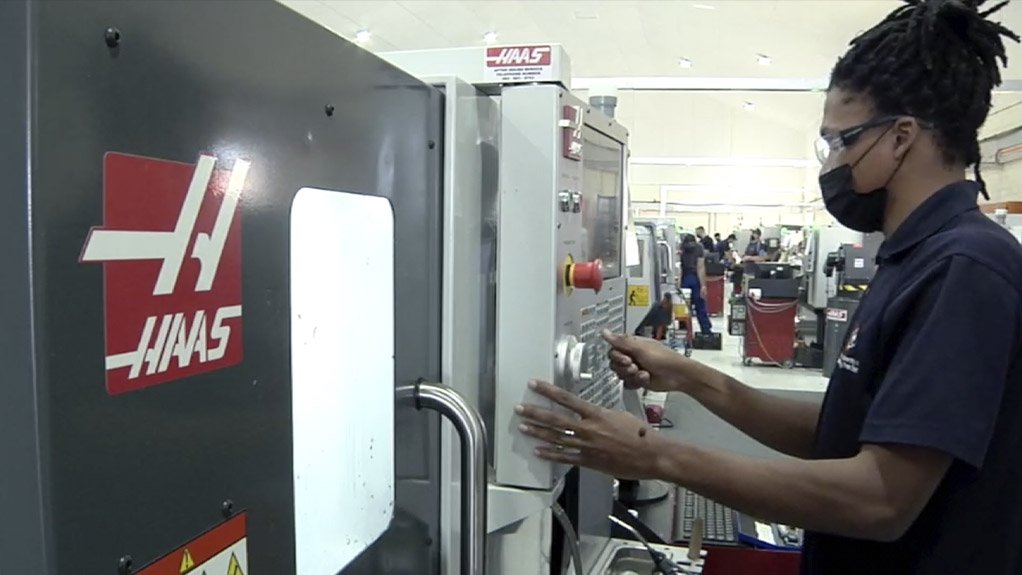 South African wear parts manufacturer Vesconite Bearings has increased capacity at its Virginia-based plant and expanded its three-, four-, and five-axis machining capability in line with projected future demand for more complex machined parts manufactured at from Vesconite's advanced engineered materials.
The Vesconite Bearings factory covers 20,000 m2 and has advanced extrusion, injection molding and CNC machining facilities. Standard stock shapes, including rods, bushings, and plates, as well as precision machined components are produced at the company's ISO-certified facility in the Free State. It is one of the largest polymer engineering facilities in the world.
Vesconite Bearings Production Manager Robin Crabb says Vesconite's machining capabilities are very advanced.
"Over the past 15 years we have moved into CNC machining, and now we have over 80 CNC machines – probably the most CNC machines in one location in South Africa," he proudly states. . The plant includes a number of processing and machining plants, as well as a testing laboratory.
The Vesconite plant has multi-axis machining capability, allowing the plant to produce large volumes of complex bushings.
Rings are produced seven days a week, 24 hours a day, with the aim of offering a turnaround time for customers within three days. "At any given time, we have over 47,000 parts on order," he notes.
Vesconite's largest machines can machine up to 2000mm diameter bushing, up to 10mm OD bushing, and even smaller.
Crabb notes that the additional five-axis machining capability will allow Vesconite Bearings to take on challenging machining projects, including difficult precision custom wear parts such as daggerboard cases for high-performance sailing yachts. technology.
Vesconite Bearings CEO Dr. Jean-Patrick Leger explains that Vesconite is machined on metalworking equipment, noting that components can be machined to precise tolerances.
"We've always focused on high-precision, long-life bearing materials that don't require regular greasing. So the idea is that you install these products, and hopefully never have to grease them, or grease them very infrequently. Our goal is to produce high-end, long-life, precision-machined products," he says.
In addition to the factory's extensive range of machinery and equipment, facilities include compounding, extrusion, molding and machine building workshops. Vesconite products are shipped directly from the factory to all corners of the globe with typical shipments of two to fourteen days.
Apprenticeships and apprenticeships in the factory
Vesconite also successfully runs an apprenticeship program at its Virginia production facility. The program provides mentorship to several young people, where training and guidance is provided for formal apprenticeships and qualifications. In addition to the apprenticeship program, the company offers new staff the opportunity to undertake apprenticeships in fitting and turning, boilermaking and electricity.
Apprentice Shanelle Potgieter is grateful for the opportunity given to her through the Vesco apprenticeship program.
"I had heard a lot about Vesconite, which made me want to enter this industry. And I like to work with my hands, so I thought fitting and turning would be a good solution.
She says the apprenticeship has dramatically improved her life. "I have a purpose now. I wake up every morning knowing I'm going to do something meaningful today, I'm going to learn something new. It's fun and it keeps me busy, which I appreciate. a lot," she said.
Fellow apprentice Lesley Segalo, who holds a degree in mechanical engineering, says the experience he gained helped him understand the theory he learned in college.
"I now have the privilege of using various types of machines in a practical way, which increases my knowledge of the mechanical and engineering side of this interesting industry," he says.
He hopes to continue his studies and become an integral part of the Vesconite business.