Mango mania: Sameera Reddy, stepmom Manjri Varde share delicious summer recipes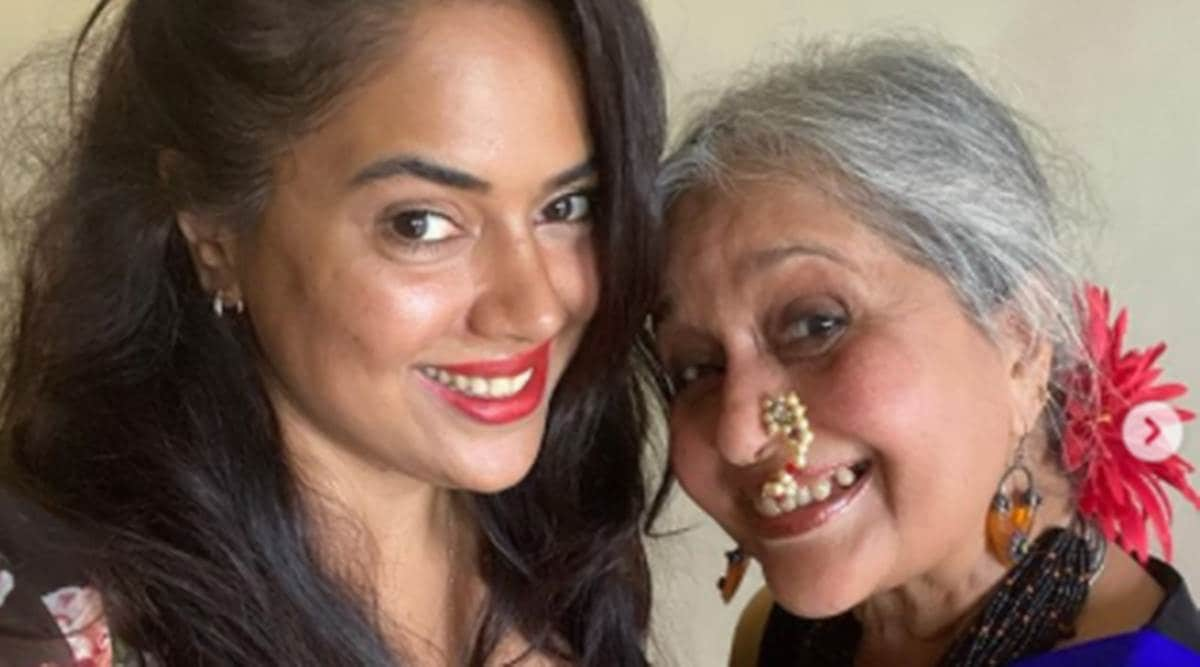 The summer season can get uncomfortable, but it's also a time when you can experiment a lot with food, get creative, and satiate your taste buds. This is when mangoes – the king of fruits – sprout and are devoured by lovers.
To mark the season, actor Sameera Reddy and his stepmother Manjri Varde have come together to cook up some lip-smacking recipes. In an Instagram video, they captured the process of cooking together and preparing two dishes from scratch: the traditional mango pickle and (a Maharashtrian recipe) the ambat batata and the poori.
Here is the detailed recipe as shared by them:
For the mango pickle
Ingredients
– 6-8 large raw mangoes
– Half a cup of sea salt
– Three packets of store-bought masala
– 3/4 liter up to oil
– 4 tablespoons of mustard seeds
– 1 tablespoon of hing or asafoetida
Method
* Wash, dry and cut the mangoes into small pieces. Dry roast the salt to remove moisture. Add it to the mangoes with the masala packet. Let soften and marinate well for 6-7 hours.
* Take almost 3/4 of a liter of oil and bring it to a steaming temperature. Turn off and let cool to room temperature.
* Take 4-5 tablespoons of oil and heat. Crack the mustard seeds. Turn off and add 1 tablespoon of hing. Pour it over the mango pieces.
For the ambat batata
Ingredients
– 4 large long potatoes
– Half coconut
– 3 teaspoons of peppercorns
– 6 teaspoons of coriander seeds
– 2 teaspoons of methi seeds
– 1 tablespoon of haldi powder
– 2 tablespoons of powdered red pepper
– 1 large raw mango, ground to stick
– 1 small packet of coconut milk
– Chopped fresh cilantro
– Take 4 large elongated potatoes cut into long and thin slices
Method
* Grind half a coconut with 3 teaspoons of pepper and 6 teaspoons of coriander seeds.
* Pour 3 tablespoons of coconut oil in a wok.
* Add 2 teaspoons of methi / fenugreek seeds. Lightly brown them and add 1 tablespoon of haldi / turmeric and 2-3 tablespoons of red chili powder.
* Add the potatoes cut into slices with a little water. Cover and cook.
* Half done, add the coconut paste and salt. Cook a little more.
* Add all the mango paste. A little coconut milk and stir and bring to a boil. Add the chopped fresh cilantro.
* This creates a pleasant, fragrant, sour and thick sauce.
In legend, the duo wrote that when mangoes are out of season, they use tamarind paste. "A two inch bullet would work. Soaked and crushed or sifted. With a spoonful of flour so that the curry does not curdle.
For the poor with crispy wheat
Ingredients
– 2 cups of wheat flour
– 1/2 cup of rawa
– 5 tablespoons of oil
Method
* Mix them all with less water and bind a hard paste.
* Unroll tiny pooris and fry them in hot oil.
Would you like to try these recipes?
For more lifestyle news, follow us: Twitter: lifestyle_ie | Facebook: IE Lifestyle | Instagram: ie_lifestyle