Mitumba Lady impresses Uhuru with the story of her rise as a factory owner
---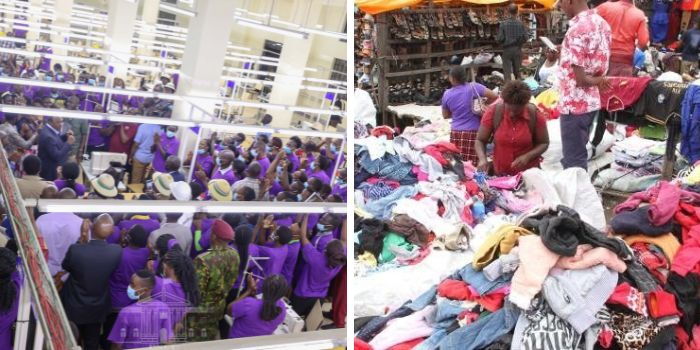 President Uhuru Kenyatta does not hide his admiration for a trader from Kisumu who went from selling Mitumba to owning an export factory in Kisumu.
Speaking on Tuesday August 2, the Head of State recounted how he had met the lady a few months ago when she was a simple trader in Kisumu.
Following his speech on the need to empower traders across the country, the lady bought into his idea. She diverted her savings to buy a sewing machine.
After months of savings, she set up Dada Export Processing Limited in Kisumu, a garment factory, which President Uhuru commissioned on Monday August 1.
President Uhuru Kenyatta inside Dada Export Processing Zone Limited, a garment manufacturing factory in Kisumu opened on Tuesday, August 2, 2022.
PSCU
"Last night I had the opportunity to go and open a factory here by CS Betty Maina as much as I was tired. We went to a factory owned by a young Kenyan lady I met a few years ago years.
She was one of a group of people that I was trying to persuade that as a country we should move from this Mitumba business to manufacturing, and we didn't castigate the business. many didn't get the point I was trying to drive, but this young lady did. Last night I had the opportunity to open an establishment that she developed here in Kisumu," Uhuru explained.
Revealing the transformation journey of Dada Export Processing Limited, the Commander-in-Chief of the Armed Forces disclosed that the company has employed 150 skilled professionals with competitive salary and other benefits. Initially, the factory had only three employees.
"It now has 150 permanent and pensionable employees; it aims to employ thousands by December. I have no problem with the jostling, but it should be a step towards something bigger," said explained Uhuru to the applause of the crowd.
He predicted that the factory, in conjunction with the Export Processing Zones (EPZ), would create more employment opportunities for skilled young people in the vast western region.
Uhuru spoke at the official inauguration of Kenya Shipyards Limited and witnessed the floatation of the new 1,800 tonne MV Uhuru II wagon ferry.
The Ksh 2.3 billion MV Uhuru II is the first locally manufactured vessel by Kenya Shipyards Limited in collaboration with its Dutch partner Damen Shipyards.
According to Uhuru, the flagship project aims to position Kenya as a regional shipbuilding hub and unlock the immense potential of the country's blue economy.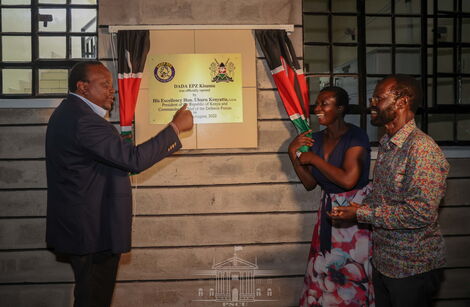 President Uhuru Kenyatta, Kisumu Governor Anyang Nyong'o and a trader opening Dada Export Processing Zone Limited, a garment factory in Kisumu, Monday August 1, 2022.
PSCU
kill