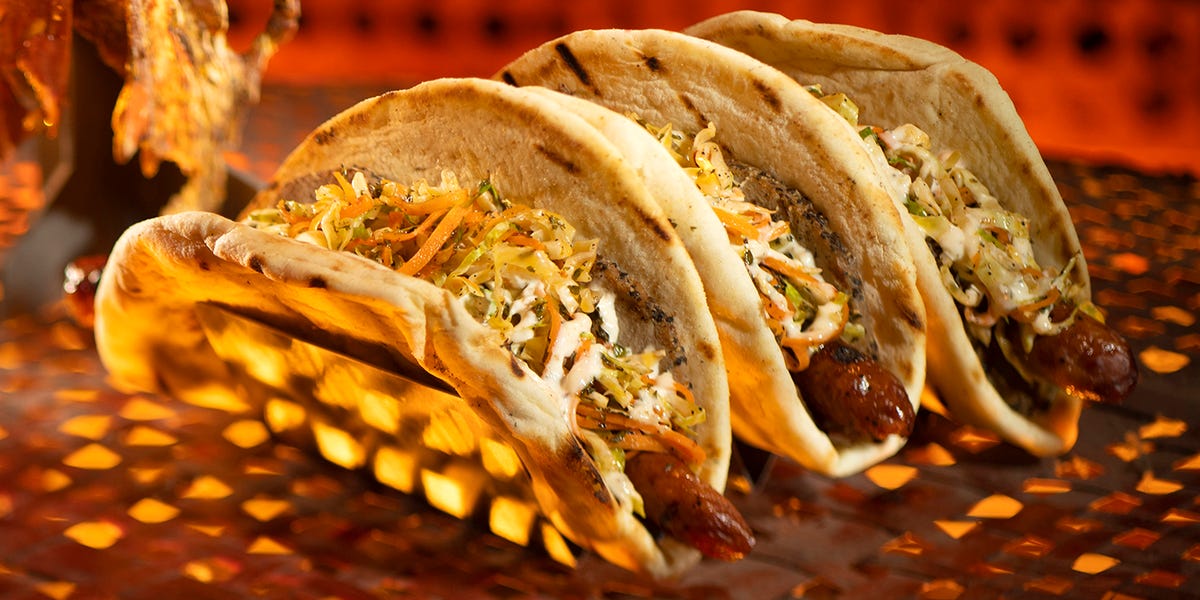 The wrap is delivered to you piping hot in a perfectly grilled pita. There are so many salty and spicy things to take at the same time, it almost makes you want to slow down a bit and compartmentalize each bite. Crunchy and well-garnished coleslaw? Yes. Delicious slices of roast pork? Yes. The absolutely perfect amount of snap on that first bite of sausage? Yes! There is not a single part of this meal that is not joyous.
Read more +


Read less –


Advertising – Continue Reading Below
Yields:

8
Total time:

3

hours

30

minutes


Roasted pork shoulder
1/2 tsp.

freshly ground black pepper
Ronto Rolled Coleslaw
1/3 c.

apple cider vinegar
1 C.

coarse salt, more to taste
1 C.

freshly ground black pepper
Vader Pouch Sauce
1 tbsp.

apple cider vinegar
1/4 tsp.

ground coriander
This ingredient purchasing module is created and maintained by a third party, and imported on this page. You may be able to find more information about this and other similar content on their website.
1. Make a roasted pork shoulder: Preheat the oven to 300 ° F. Wipe the pork butt with a paper towel. Rub with canola oil and season with salt and pepper. Place the seasoned pork butt on a roasting rack and cook for 3 hours, until the pork is at 160 ° F. Let cool for at least 15 minutes, then slice 1/8 "thick.
2. Make a Ronto Coleslaw: In a large bowl, combine the sugar, sambal, canola oil, apple cider vinegar, parsley, salt and pepper. Add the matchstick carrots and shredded cabbage and toss to combine.
3. Make Vader Clutch Sauce: Combine all the ingredients in a large mixing bowl. Refrigerate until ready to serve.
4. Make a packaging: Preheat the grill or sauté pan to medium heat. Brush the pan or grill with oil. Toast bread, 1 minute on each side, until golden brown.
5. Grill the sausages: Preheat the grill pan over medium heat for 5 minutes. Grill sausages, 5 to 7 minutes, turning once, to 160 ° F. Add the reserved pork slices to the pan and cook until golden brown on both sides.
6. Assemble the Ronto Wrap: Place 2 pieces of pork shoulder on each toasted pita. Place 1 grilled sausage on top. Top each wrap with 1/2 tsp. coleslaw and drizzle with sauce.
This content is created and maintained by a third party, and uploaded to this page to help users provide their email addresses. You may be able to find more information about this and other similar content on piano.io
Advertising – Continue Reading Below