Smart Factory Officially Opens, Plans to Tackle Manufacturing's Toughest Problems – The Sunflower
---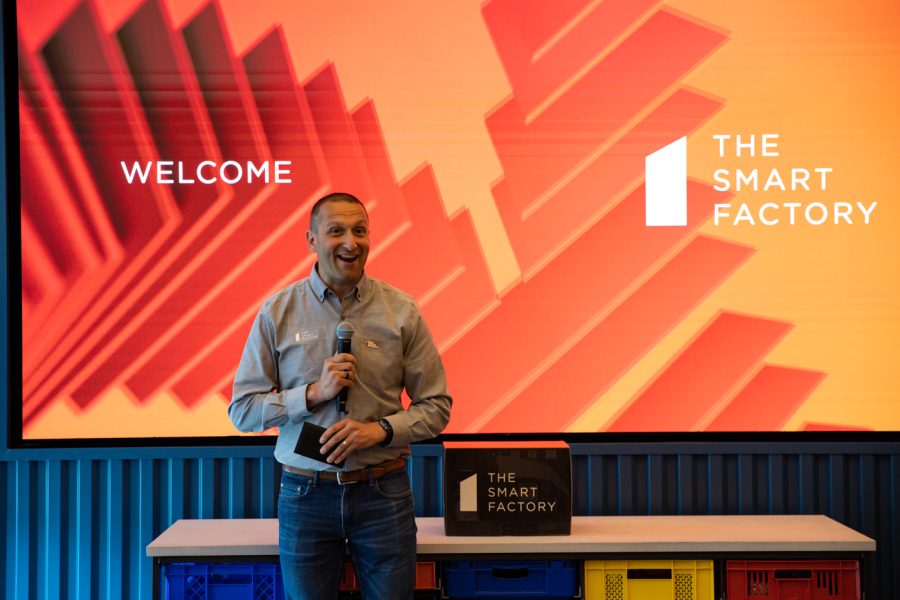 The Smart Factory, Wichita State's newest addition to the Innovation Campus, officially opened today.
Several entities are credited with founding The Smart Factory, including WSU, Amazon Web Services, Dragos, Infor, SAP, and Siemens. Additionally, more than a dozen entities can be credited with helping build and participate in the factory.
The factory was built with the intention of modernizing design and engineering digitally. It has a manufacturing production line that combines technologies such as artificial intelligence, machine learning, big data, cloud and edge applications, robotics, vision solutions and others. Additionally, according to Deloitte's press release, the plant has no net impact, making it fully sustainable.
"There is a STEM gap that is extremely important to the future of this country and we want to make sure we can help close it," said Deloitte Consulting President and CEO Dan Helfrich.
Smart Factory leader Stephen Laaper said the Smart Factory was built around four concepts: experience, sustainability, community and philanthropy. The community and experience aspect applies to the partnership between WSU and Deloitte.
"Wichita State University also uses the plant in its curriculum as an applied learning experience to enrich student learning experiences and help inspire the next generation of STEM talent," Laaper said.
Innovation director at Deloitte Consulting, Nishita Henry, said she is passionate about ensuring equal representation in STEM when developing new technologies.
"I got my engineering degree at the end of the 90s, when [women] were about 20 to 25 percent of the representation," Henry said. "Unfortunately that percentage hasn't changed much in the last 25 years, so clearly we have to do things differently if we want different results."
Henry said providing hands-on experience for students in the form of applied learning is something Deloitte and WSU are excited to do.
In addition to working and planning to work with WSU students, The Smart Factory plans to manufacture and donate Smart Rover STEM educational kits that will impact 800,000 high school students, according to Deloitte's press release.
"We started production (of rovers) in January 2022, so. . . we increased production," Laaper said. "To date, we have made and donated 250 kits. These kits were intended for middle schools in the Wichita, Philadelphia and Detroit areas.
The on-campus Smart Factory is one of the few in the world to be open, with others in places like Germany and Japan. When asked what made Wichita the place to open the plant, Helfrich said why not Wichita State.
"Wichita has a deep heritage of innovation," Helfrich said. "Wichita has a commitment in its roots to manufacturing, and Wichita State University has an administration that is committed to innovation in a way we haven't seen at other universities in the country. . … Then there is enormous student talent that we have come to know.